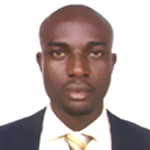 Jude Okoror obtained his Higher National Diploma from Auchi Polytechnic Auchi (2004) and M.Sc. in Housing Development and Management from the University of Ibadan, Ibadan (2012).
He is an associate member of Nigeria Institution of Estate Surveyors and Valuers and registered member of Estate Surveyors and Valuers Registration Board of Nigeria.
He did his one year mandatory industrial attachment with the firm of Diya Fatimilehin & Co (2000) after graduation in (2004) he joined the firm of Ubosi Eleh & Co. where he did his National Youth Service Corps and he has since remained with the firm, in 2008 he rose to become the head of valuation department of Victoria Island branch.
He voluntary resigned from Ubosi Eleh & Co to set up a firm of Estate Surveying and Valuation.
He has put in almost fifteen (15) years working experience in real estate consultancy sector.
His experience has made him to carry out valuation for individual concerns, corporate organization, manufacturing sector; conglomerate companies and Government agencies. Its expertise has also made him led team of surveyors in carrying out several major assignments.